Head Soccer World Champion
Play Now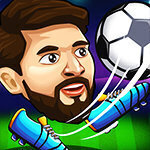 In Head Soccer World Champion, two best sports, ping-pong and soccer finally meet! Select your famous soccer player and get ready because you're going to have to use your head to excel at this game. At the end of this long waiting, it is the day of the World Championship! You have to do your best as the audience screams your name. Are you ready for this head to head match?
What you encounter in this sun sports game is a soccer field with ping-pong rules! This is going to be a close-fought, and only one head will be the winner! The very first thing to do is picking your favorite player's head. Yes, that is right, simply move your head around with your arrow keys and let the ball bounce off to the opponents' side. If the other fella drops the ball, you score! You have a limited time to kick all your goals. When the time is finished, the head with the most goals wins that round. You can check your remaining time left from 88 seconds at the middle top of the screen. Next to the counter, you can see the scores of you and your opponent. Good luck and have fun!
If you want to try another similar game that you can even play with your friend or against CPU, then be sure to check Soccer Random.
Developer
JulGames developed this game.
Release Date
January 16, 2020
Features
2D colorful graphics
Time limit
Multiple famous players to select
Entertaining and addictive gameplay
Controls
Left and right arrows to move around. The up arrow to jump.