Play Now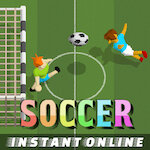 In Instant Online Soccer, the world's most popular sport awaits you to come and show everyone who's the best footballer! The lights are on, the stands are full and all is ready! It's time for you to shine and the soccer field is waiting! Get ready to play your best soccer game! Can you be a worthy man of the match and score as many goals as you can?
Everybody is cheering for you and the game is about to begin. Bring your A-game and win the championship! In this online game your objective is to control a player and play with other members of your team to score goals and win each match. There are two ways to play this game. You can either play solo with other players from all around the world or you can invite 3 of your friends to play with you. In this game, anything is possible! You can get knocked down so be careful and avoid other players as much as you can! To move around, you have to use WASD keys. If you feel the need for speed press right mouse button to run. Press the space bar to slide and steal the ball from other players. Use the left mouse button to kick the ball. And press E to call others. You can also customize your appearance and see who the MVP is on the leaderboard. Come on footballer, the field is awaiting you!
Do you want to prove your football skills in another game as well? Then be sure to check out World Football Kick 2018 and enjoy yourself!
Developer
Rezoner developed this game.
Release Date
October, 2018.
Features
Multiplayer gameplay
Intuitive controls
Many customization options
Can play with friends