Play Now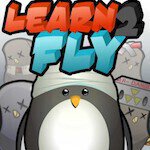 In Learn to Fly 2, our determined penguin character is keen on proving that he can fly like other birds. Jump into the second game of the amazing series, and join our arctic character. The skies are waiting for you, so equip your glider, get on your sleigh, and flap your wings. Are you ready to prove others wrong?
With so many different unlockables and options, flying shouldn't be so hard in this game, even if you're a flightless bird. Your objective is to try to reach the farthest point you can by flying. There are three different game modes that you can play. In the story mode, you continue from where you left off from the first game. You should complete this mode to unlock the other two. He didn't achieve what he wanted in the first game, but this penguin has learned from his mistakes. Instead of trying to fly himself, he decided to use a dummy to test his gadgets. As you complete challenges and beat your scores, you'll earn cash to spend on different upgrades. You can also buy tools to upgrade your stats. More money means more upgrades and more upgrades mean more scores.
Penguins are not only good at trying to fly. They can also run a restaurant. Go and help another arctic bird in our popular and fun game, Penguin Diner. Enjoy!
Developer
Learn to Fly 2 is a game by Light Bringer Games.
Release Date
June 2011
Features
Multiple upgrades to use
Various challenges
3 different game modes
Funny animations
Controls
Use your mouse and the arrow or the AD keys to play the game.