Play Now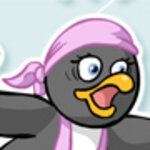 In Penguin Diner, you need to help Penny the Penguin! While she was on an Antarctic trek, she lost her way, but she needs to get back home! Can you help her earn enough money to get her home or leave her in the mountains? Have fun!
Our cute penguin Penny went to the Antarctic zone for her winter holiday, but unfortunately, she lost her way and ended up stuck on top of an icy mountain. You need to help her get home because she is completely broke. Let's find her a job as a waitress to get some money! Her first job as a waitress will be in Hill Top Café. First, she needs to seat the customers. Customers arrive and wait to be seated, click on a waiting penguin to select and click on an available table to seat them. But be quick! If you cannot fast enough, the customer will get angry and leave the café. Then you need to take their order and serve customers when the order is ready in the food area. Once the customer is done, take the cash and clear the table for the next one! Don't forget that you have a limited time to complete your money goal! Keep an eye on the clock! If you serve customers quickly and keep them happy, she will earn bigger tips to get back home! You can also buy upgrades and help her earn even more money! Have fun playing!
Do you want to play more games like this one? If so, take the different challenges in our collection of free and online food games.
Developer
Bigwig Media Ltd developed Penguin Diner.
Release Date
February 11, 2021
Features
2D graphics
Goals to complete each day
Upgrades to buy
Entertaining gameplay
Controls
You can use your mouse to play this game.