Play Now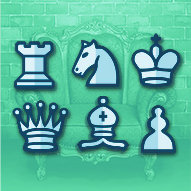 In Chess Grandmaster, get ready to push the limits of your brain! There are two different game modes for you to enjoy in this game. Are you ready to be the master of chess? Good luck!
Every chess master was once a beginner. So, with this game, you can be also a master of chess! The only thing you need to do is to play over and over again. There are two different game modes for you to play. The first one is classical matches against an AI and the second is chess puzzles. If you are an impatient person and don't want to play for hours, you can enjoy 2,3, or 4 moves to puzzles! There are nearly 1200 puzzles in the game library! When you choose to play against a computer, you can choose a difficulty level. If you feel confident about playing chess, you can of course start with the hard level. You can also choose the color of your pieces. There is no one who doesn't know this, but still, to tell, your objective is to capture your opponent's King while keeping your own's safe. You can follow the moves at the top of the screen. You know chess is a war over the board. The object is to crush the opponents mind! The pin is mightier than the sword. Try to drive your opponent into a corner and capture his King! Good luck!
To play more games like this one, you can check out our collection of online puzzles games by clicking here. Enjoy!
Developer
RavalMatic developed Chess Grandmaster.
Release Date
December 17, 2019
Features
Board game
2 different game modes
Challenging and entertaining gameplay
2D graphics
Controls
You can use your mouse to play this game.