Play Now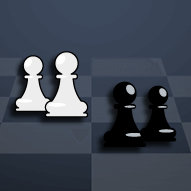 Casual Chess is welcoming you to the world of just 64 squares! Do you ever go over games in your head? You don't need to anymore! You can play chess online now! Are you ready to play your life's best chess game? Good luck!
Do you know that the history of chess is traced back nearly 1500 years? It is one of the oldest games in world history. To explain the game briefly, it is a board game played between two players. And the aim is to capture your opponent's King while keeping your own well-guarded. There is nothing different here in this game, you just play it online and against the computer. Before starting the game, you should choose a theme among 3 options. Then you can start the game. When you make your move, the computer will respond right away. You can change your choice between black and white pieces. All you need is your mouse to control the chess pieces. The moves you and the computer both made will appear on the right side of the screen. Try to move your pieces carefully, but if you think you made a wrong move you can always take it back. You can also change the difficulty level of the game. If you feel confident about playing chess, you can choose the hard level! Let's play!
If you need to play more games like this one, take the different challenges in our collection of free and online puzzles games.
Developer
MarketJS developed Casual Chess.
Release Date
March 29, 2019
Features
2D graphics
Intuitive controls
3 difficulty levels to choose
Entertaining gameplay
Controls
You can use your mouse to play this game.