Play Now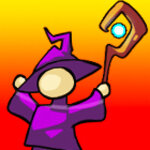 In Magical Glory, your enemies have decided to remove you from the surface of the land, and you should be prepared to defend yourself! Reinforce your defenses, send your best units to the front lines, and make arrows and spells rain on your rivals! Do you have what it takes to keep your tower unscathed through multiple levels filled with challenges and different enemies?
You worked so hard to get this tower, and you won't be handing it over to some bad guy just because he likes the view from the top floor! Your objective in this game is to complete each level by killing all of the enemies without your tower getting destroyed. It's not an easy job to command units, but you can play this game with your mouse, so the victory is just a few well-placed clicks away! You have 2 units to use. At the beginning of the game, you can only use your archer, but as you pass levels and earn stars, you can unlock spells and use your sorcerer as well! Aim with your mouse and click on the screen to make your archer shoot an arrow. Your tower's health bar is located at the top of the screen. Your spells are located beneath it. There are many different upgrades for your archer, sorcerer, and tower. Unlock them all to become strong enough to survive the waves of enemies. Good luck!
We've collected many similar and fun games under our category of free and online strategy games! Click here to start browsing! Enjoy!
Features
12 different levels to complete
Colorful 2D graphics
15 different achievements to unlock
Various upgrades to buy from the in-game shop
Entertaining gameplay
Intuitive controls
Controls
You can use your mouse to play this game.