Math Game Multiple Choice
Play Now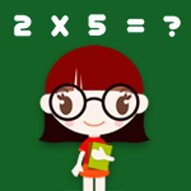 Math Game Multiple Choice welcomes you to train your brain while having a great time! Are you a math genius? Do you enjoy solving problems? If you answered yes to both questions, you'll love this game! Answer the questions as soon as you can in a race against the clock. You can also challenge a friend to see who is the better mathematician. Are you ready to start? So, click the play button and let the adventure begin! Have fun!
It's never been so much fun to solve math problems! This is the challenge that will be sent to your door. You can use this game to practice and challenge your classmates with mini-questions. The goal of this entertaining game is to correctly answer as many questions as possible. Also, don't forget about the rush! You'll be up against the clock. You can enhance your multitasking skills by playing this game. While attempting to solve the challenge, you must act quickly by selecting the correct option. At first, the questions will be simple. However, as you progress through the game, the difficulty level will rise. Multiple-choice questions are asked. There is just one response that is correct. Out of the four options, select the correct one. Don't be frightened! You might make mistakes if you don't. Let's see how many points you can get if you're ready! Good luck!
Do you want to play more games like this one? If so, take the different challenges in our collection of free and online skill games.
Developer
Digi Smile limited developed Math Game Multiple Choice.
Release Date
July 9, 2021
Features
2D colorful graphics
Racing against time
Simple controls
Fun and engaging gameplay
Controls
You can use your mouse or touch controls to play this game.