Play Now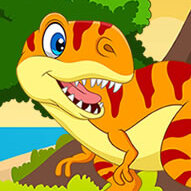 In Dino Jigsaw, various puzzles are waiting for you to solve! Dinosaurs may not exist today, but it doesn't mean that we should forget about these cute creatures! Are you ready for time traveling and see the dinosaurs again? Have fun and good luck with solving!
Do you know that jigsaw puzzles were created in the 18th century? Yes, we also didn't think that they are such old puzzles! So, now we will play it online! Just like the real puzzles, your objective is to complete each puzzle as fast as you can by matching the pieces. The game offers you 9 different dinosaur images for you to choose from, check them all, and decide the one you will solve! When you decide on an image, you need to pick the number of pieces you want to play with. You have 4 choices. You can begin with 16 pieces. If you think you are so good at puzzles, start with 36 pieces. Ready for a challenge? Then choose 64 pieces or 100 pieces one! You can use your mouse to play this game. Click on the piece you will use and drag it into the frame. Once you place it next to the correct one, they'll stick to each other, and you can move them around as one piece. You will see the original image at the bottom of the screen if you are having some trouble to solve. Have fun!
If you want to try another game similar to Dino Jigsaw, then be sure to check Tic Tac Toe Paper Note 2 by clicking here.
Developer
New Kids Games developed Dino Jigsaw.
Release Date
June 25, 2019
Features
2D graphics
Various puzzle options to choose
Animal involving
Entertaining gameplay
Controls
You can use your mouse to play this game.