Play Now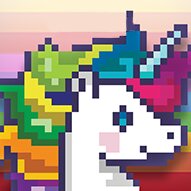 Color Pixel Art Classic welcomes you to an endless ocean of drawings that are ready to be colored by you! From animals to Christmas-themed pictures, you can choose any scene, creature, or object to paint. There is a difference from the traditional painting; these drawings consist of numbered pixels, and there is a special technic to color them.
First, choose a picture that suits your mood; a cat, a hamburger, or maybe a vampire to catch up with today's moodiness. If you zoom in, you can see the numbers inside the boxes. These numbers are codes for the colors available for your use. Choose any color, and some boxes will have dots on them. Those are the pixels to be painted with that color. As this is supposed to be a comforting activity, you don't have to hurry to finish. Take your time to watch the picture of your choosing unravel. You will see how your pictures look satisfying and perfectly toned when the numbers are followed correctly. You can stop coloring at any point because the game will save your process so you can continue later. Your work will be waiting for you in the saved pictures tab.
If you like playing with colors, you can check out Pixel Art 2 to find even more of these relaxing images waiting to be colored!
Developer
Famobi GmbH developed Color Pixel Art Classic.
Release Date
November 19, 2021
Features
Relaxing coloring experience
Easy to play
Many themes and drawing options
Detailed color choices
Available on mobile devices
Controls
You can use your mouse to play this game.