Friday Night Funkin Hugie Wugie
Play Now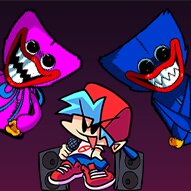 Let's get funky with your favorite horror character with Friday Night Funkin Hugie Wugie! Meet the most popular heroes and villains for a disco event and tear up the dancefloor! Move your body with the rhythm and win difficult dancing contests with the upbeat songs on every level!
All stages are exclusively brought to you to help you bring out the muse within you with some disco action! So relax, warm your fingers, and let them do the dancing! You can see the level list upon clicking on the play button. The challenges are split into weeks, and you can see the difficulty level right under these weeks. Start with the first challenge, and let's rock the club! You have four main moves to follow, and you can do so by using your arrow keys. Follow the beat and wait for the exact second to imitate these moves. Speed up with the rhythm and keep up with the pace of your favorite character DJs. Give in to the music and let your fingers take control. Face even more difficult dancing contests every week and improve with your fans' expectations!
If you like testing your sense of rhythm and enjoy the music's company, you can check out Music Rush and bring your reflexes onto the stage!
Developer
kiz10.com developed Friday Night Funkin Hugie Wugie.
Release Date
March 3, 2022
Features
Popular game and cartoon characters
Amazing music
Increasing challenge
Improving sense of rhythm
Available on mobile devices
Controls
You can use the arrow keys to play this game.