Play Now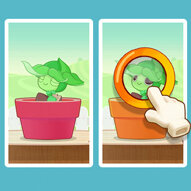 In Find the Differences, let's see how good you are at paying attention to detail. Featuring colorful pictures and addictive gameplay, this game will make your day better and also challenge you to develop your attention to detail skills. Are you ready to see if you can spot all the differences?
If you are in the mood for a classic and fun game experience, you have come to the perfect place. This classic game will be even more fun with these colorful and beautifully drawn pictures. So, if you are ready, let's start now! We're sure you know what your objective is but there's no harm in reminding you the rules. You need to spot the differences between the two pictures and complete each level. You can see how many differences there are between the two pictures on the top of the screen. The differences can be anywhere. It can be the color of the curtains, or maybe there are no curtains at all. Just be sure to check every corner. Since you have the eyes of a hawk, we're pretty sure this is a piece of cake for you. But if you can't find the differences, you can click on the hint button at the bottom of the screen. Do you think you will be able to find them all before the timer at the top of the screen ends? Good luck!
If you want to play other puzzle games like this one, you can check out our collection by clicking here. Enjoy!
Developer
YAD.Com developed Find the Differences.
Release Date
January 29, 2021
Features
Entertaining gameplay
Nice 2D graphics
Many levels to complete
Intuitive controls
Controls
You can use your mouse to play this game.