Play Now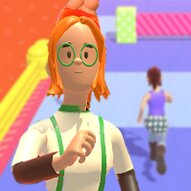 Pick up braids on a colorful track and break the world's longest hair record with Long Long Hair! Have you ever wanted Rapunzel hair that you can shape and use to swing from places? It might sound oddly specific, but here you can make that one dream come true while working on your reflexes!
Before stepping onto this platform where you can pick up inches of hair and purple diamonds while running towards your goal, you can choose your character's looks. These skins include different braid styles, various hair colors, new clothing combinations, and skin colors. You can come back whenever you want to unlock new skins as you earn more diamonds later in the game. Hit start when you feel ready for the incoming obstacles. Move your character right and left, collect braid pieces to add them to your hair, and get extra diamonds whenever possible. Always keep the hair as a priority because you might need every piece later. Avoid getting your hair caught up in fans as they shorten your braid as a penalty. Dodge the obstacles on the ground and always make sure your hair is long enough to use to swing to another platform. Unlock all skins and discover every track!
If you like growing the world's longest hair on an obstacle run, you can check out Run Destiny Choice and make vital decisions on your way towards heaven's gate.
Developer
PKPL Entertainment developed Long Long Hair.
Release Date
March 31, 2022
Features
Colorful 3D graphics
Easy to play
Unlockable skin options
Fun and addictive gameplay
Challenging levels
Controls
You can use your mouse to play this game.