Play Now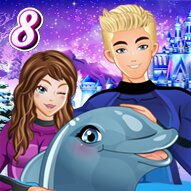 Play as one of the most intelligent and sympathetic creatures of the earth, a dolphin, with My Dolphin Show 8! Do tricks on water, jump out and dive back in, break the ice, swim through hoops, and mesmerize the audience with everything you do! Listen to the cheers and put on one hell of a show for them!
There are eighteen levels built on fantastic ice maps ahead of you. You can unlock new dolphin skins, other animals, or even a trainer to play as! So, start practicing and get used to the controls and the speed of your character, because we have a huge crowd to impress! Enjoy the magical atmosphere of the ice palace and follow the instructions of your trainer. Combine the tricks and toys, impress the jury further, and multiply your score to earn more gold. Finish levels with three stars to unlock new areas with new challenges. Feel the attention you get for being the fabulous being you are without any effort! Be a good dog or a mermaid; whatever magical and adorable creature you want! Collect fish between dances and tricks, and feed on the love you get from applauds!
If you like this skill game with adorable characters, you can check out My Dolphin Show 9 and see what new tricks our cute friend has to show us!
Developer
Agame developed My Dolphin Show 8.
Release Date
May 3, 2018
Features
Fabulous 2D graphics
Easy controls
Adorable character options
18 levels of creative obstacle courses
Controls
You can use the arrow keys to play this game.