Play Now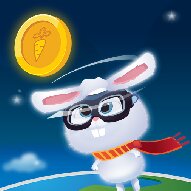 Jump Bunny Jump and never look down! This little rabbit needs your talented fingers to jump as long as it can! If she falls, it will be her end. That is why this mission is vital. There will be boosters for you to help as well as the obstacles that can take you down. Put your fingers on the keyboard now and get ready to jump into the mystical forest!
Welcome to the mystical forest where all the animals have different powers. This bunny can make high jumps. You are taking control of this sweet little bunny and help her jump as long as you can. There is no end to this fun adventure but collecting lots of coins and points. If you wonder how you will be able to jump that long, here is the answer. The forest is full of boosters. Magnets, umbrellas, rockets, and many others await you. You will encounter countless obstacles as well, though. Use the mouse, SPACE BAR, or touch controls to make the first jump. The rest is a little bit more difficult. The bunny continues to go high as long as it collects coins. You can think of the coins as fuel. With your earnings, you can also buy new boosters from the in-game shop! If you are ready now, let's see how many meters you can make! Good luck!
Sine you mastered controlling this sweet bunny, another cutie needs your help too. If you want to help this little girl who dressed up as a kitty, then be sure to check Hello Kitty & Friends Jumper by clicking here.
Developer
Inlogic Software developed Jump Bunny Jump.
Release Date
July 22, 2021
Features
2D colorful graphics
Various boosters and obstacles
Endless jumping adventure
Fun and engaging gameplay
Controls
SPACE BAR/mouse/touch controls to jump. Left and right arrows/mouse/touch controls to go left and right.