Play Now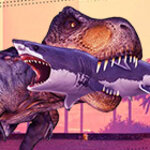 In Miami Rex, the bustling city is about the get familiar with one of the biggest prehistoric creatures. Dinosaurs might have got extinct a long time ago, but the one in this game somehow managed to survive. Take control of this ferocious creature and wreak havoc on the residents of this city. Can you show them that humans are not the apex predator anymore?
A real dino is one of the last things you'd expect to see in a city. If you're ready to show some teeth, then start the game now. The main objective of this game is to beat each level by eating everyone in it. Before you start playing, you can check how to play the game from the main menu. Once ready, click on the play button. On the next screen, you'll see various upgrades that you can unlock for your dino. These can increase your health and the damage you deal. You have to earn stars to buy them. Clicking on the play button in the top right corner takes you to the level selection screen. There are 16 levels to play, but you unlock them one by one. Start with level one first. Move around the map and look for humans to eat. Be sure to destroy cars and other vehicles to earn stars, and reach the end of the level. Your health bar is located at the top left corner of the screen. Good luck.
Check our collection of free action games for more games like this. Have fun playing!
Features
Colorful 2D graphics
Can customize your character
Intuitive controls
Entertaining and addictive gameplay
16 different levels to complete
Controls
Use the WASD to move and the mouse to bite and shoot.