Play Now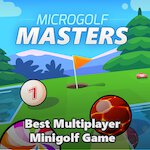 In Microgolf, prepare yourself to challenge other players from all around the world and your friends! You don't have to worry anymore about going to a golf course to enjoy this sport. We bring golf to you! Join others now to prove you're the MVP! Get ready and give it your best shot!
Isn't it a wonderful day? It feels like the perfect time to enjoy the game of golf. But you can also do this online now and practice how to play. Before you start playing, you can watch the tutorial to see how the game is played. Your objective is to place your ball in the checkered area and get it into the hall with as few shots as possible. To shoot, press, and hold the left mouse button and start dragging from the center of the screen. Once you adjust the power of your shot, release the button. You can try one of the 5 different game modes: solo play, 1vs1, 4 player, 2v2, and the tournament. You can also try completing daily challenges to get rewards. This isn't all you can do in this game. You can change the way you look and customize your ball. You can upgrade your two stats, strength and accuracy, to get better in this game. And also check the leaderboards to see who the winner is and try to be the best. Come on, golfer! Your opponents await you.
There are other sports like football and basketball that you can enjoy. Check our collection of free and online sports games to try other competitive and fun games! Have fun.
Developer
Developed by TripleFun.
Features
Daily quests to complete.
Online multiplayer gameplay
Nice graphics
Different balls to unlock
Controls
Use your mouse to play this game.