Play Now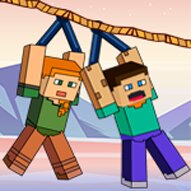 In Mini Rope Rescue, you urgently need to help these characters get out of the hills! Fortunately, they have a long rope with which to escape. The bad news is that they are unable to secure the rope to the hooks. It is your responsibility to help them. You must develop a plan that allows them to drop safely and without colliding with any obstacles. Do you have what it takes to keep them safe right now? Then let's jump into the game and them! Good luck!
Have you ever met any of these well-known Minecraft characters? They ask for your help in this adventure! They've become stuck at the top of the hills and have no idea how to get down. In this amusing puzzle game, your goal is to create a line in the various rocks so that the little characters can safely down. You will, however, face dangerous obstacles. Circular blades, moving spikes, including several additional dangers will be waiting for them. Collect as many coins as you can along the journey. Remember to collect the keys in the following levels as well. They help you in removing these deadly obstacles and opening up new possibilities. According to the remaining characters at the end of each level, you can earn up to three stars. Even if you save one, you will only receive one star for completing the level. Best of luck!
Do you want to play more games like this one? If so, take the different challenges in our collection of free and online puzzle games.
Developer
kiz10.com developed Mine Rope Rescue.
Release Date
September 10, 2021
Features
2D colorful graphics
Several challenging levels to complete
Collecting coins and stars
Fun and addictive gameplay
Controls
You can use your mouse or the touch controls to play this game.