Play Now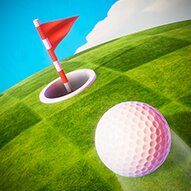 Minigolf Tour will take on a ride from the Wild West to the castles of the middle ages. Highly detailed and challenging parkours, multiplayer online matches, and many new arenas to unlock are waiting for you! Match other players and beat them in tracks full of obstacles with different themes to unlock treasure chests! Are you ready for a game in the green meadows from different ages and cultures?
You will slowly climb up in the leveling system and unlock new arenas, but first, you have to beat your opponents in the Wild West. Obstacle-wise, this is the easiest arena. But don't let the arena fool you; you are still fighting against other players and the clock. The one with the least shots wins, so take as few shots as possible to get the ball inside the hole. Hold and pull the ball to aim, and send it flying with the right force. Every match consists of 3 rounds, and you earn golds and chests off them. You can unlock chests to collect pieces of new balls, trails, and hole effects. You can also unlock new player avatars the same way. Level up to unlock new and more difficult arenas to compete in. Advance and conquer all fields!
If you like mini-golf, you can try Footgolf Evolution for a fun mixture of football and golf!
Developer
Inlogic Software developed Minigolf Tour.
Release Date
December 15, 2021
Features
Colorful 3D animations
Features to unlock
Rewarding level system
Multiplayer game experience
Available on mobile devices
Controls
Hold and pull the ball with your mouse.