Play Now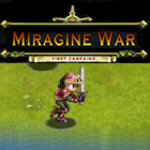 In Miragine War, swing swords and sling spells towards your enemy to show who is the best. With various units under your command, none can stand between you and victory. Do you have what it takes to show your rivals that you have the strongest force in the world?
Your enemy is preparing for the battle as they train various units to attack you. Your objective in this game is pretty simple. You try to defeat your enemy by sending different soldiers to them to destroy their crystal. To start the game, click on either the single play or the multi-play option on the main menu. In single-player mode, you play against the CPU, while in the multiplayer mode, you fight against your friend by sharing the same keyboard. When you start the game, you can see your units at the bottom of the screen. Click on one of them to highlight it. Once you have enough money, your selected units will spawn and march towards your enemy. At the top left corner of the screen, you can see your health, money, income, and supply. You increase your income by recruiting units. When the timer reaches zero, the income will become your money. Fight well and good luck!
Pick a side and defeat your opponent in our other popular game Humaliens Battle, by clicking here. Enjoy!
Developer
Miragine War is developed by MIRAGINE.
Release Date
October 2011
Features
16 different unit types
4 difficulty settings
Multiplayer option
2D graphics
Controls
Use the WASD keys to play as the player 1. Use the arrow keys to play as player 2. Drag the mouse on the minimap to move the camera.