Play Now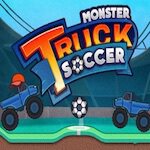 In Monster Truck Soccer, get in your massive vehicle and head to the soccer field. Soccer is played on foot, but this game adds a bit of extreme and challenge by adding monster trucks to the mix! Start the engines, control the ball, and win each match to show you're the best!
Take your place behind the steering wheel and make your fans cheer your name with each goal you score! The objective of this game is to win each match by having the most points by the end. Each match takes 60 seconds, so you should be quick and fast! Before you start the game, pick a team from 8 different options. Click on the play button on the main menu to start. You can use the arrow keys and the SPACE BAR to control your vehicle. With the left and right arrow keys, you can move your monster truck back and forth. Press the up arrow key to jump. You can dash by using the SPACE BAR key. The dash meter is located at the bottom of the screen. You earn crowns by winning matches, and can use these to buy new hats for your truck! Have fun!
Break a sweat and win against your opponents in our other fun and competitive titles listed under our free and, online sports games collection. Enjoy the challenge!
Release Date
February 2018
Features
8 different teams to choose
Colorful 2D graphics
Unlockable hats to customize your truck
Addictive gameplay
Controls
Use the arrow keys to control your monster truck. Press SPACE BAR to dash.