Play Now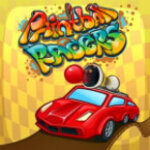 In Paintball Racers, the kitchen is closed! Take your part in this exciting race, jump into your car and race against your opponents. The kitchen counter has many different obstacles on it. Can you evade them and finish the race in the first place?
Forget regular races! We're here to have some fun! Armed with a powerful weapon on the hood of your car, the competition becomes even more exciting. Your objective is to finish each race in the first place on all levels. Feeling like you're falling behind? You can use the Z key to activate your turbo boost. With each stunt, your turbo meter will refill. Use it wisely, and you can leave every other racer behind! Need more power? You can buy 4 different boosters with the coins you have collected. You can get rid of other racers by shooting them. The game features 4 different bullet types, each with a different effect! Put on your helmet, and show everyone that you'll be the only winner of this race!
Don't forget to check our collection of online racing games to take part in more heated competitions. Have fun!
Developer
SMOKOKO S.A. developed this game.
Release Date
2014
Features
20 fun levels
4 different boosters
4 different bullet types
Can purchase upgrades
Controls
Use the WASD or the arrow keys to control your car. Press the Z key to activate the turbo, press the X key to jump and use the space key to shoot paintballs.