Play Now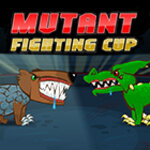 In Mutant Fighting Cup, get ready to play with genes and create an amazing fighter to win the world cup. The science has advanced enough to create super fighters whose abilities are enhanced with different mutations. Get in the lab to create the perfect genetic combination and turn your fighter into champion.
Piercing claws, sharp teeth, or maybe dangerous horns? You can get all you want for your fighter thanks to the latest genetic technology. The objective of this game is to create an undefeatable warrior to win the world cup. Playing with genes and causing mutations might sound challenging, but with the simple controls of this game, your job is pretty easy. Clicking on the play button on the main menu will take you to the map. Here you can see the fights you can take part in but you unlock them one by one as you play. Before a fight, you'll visit the lab and have a chance to modify your fighter. Look at the genes to see their effects, and pick the best ones. As you advance, you'll unlock more genes and gene slots. During a fight, your character is located on the left side of the screen. You play in turns and can pick a move from the bottom left corner of the screen. Health bars are located at the top. Defeat an opponent to win the fight. Good luck!
Be sure to check our other popular game Deul. Have fun playing!
Developer
Nikolay Marchenko and Alina Oleinik developed Mutant Fighting Cup.
Features
Colorful 2D graphics
6 different cups to win
Intuitive controls
Multiple different genes to apply to your fighter
Entertaining and addictive gameplay
Controls
You can use your mouse to play this game.