Play Now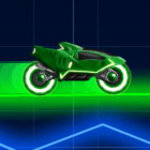 In Neon Rider, get ready to dive into a world made of neon lights. Some people might find riding on ordinary roads challenging. But with your amazing skills, even the tracks made out of lights is a walk in the park for you. Jump onto your motorbike, and be prepared to perform stunts.
Your objective in this game is pretty simple. All you need to do is to complete each level by reaching the end. Each level is filled with challenging tracks. Click on the start game button on the main menu to begin. On the next screen, you can see the levels. In the beginning, only the first level is available, but you can unlock the rest as you play. There are 20 different levels you can complete, so start now. You can use the WASD keys to move around the level. In some levels, you'll have to ride on tracks of different colors. To be able to travel on them, you should change your color too. Use the arrow keys to alternate between 4 different colors. You can check the bottom right corner of the screen to see which key changes you into which color. If you run out of health by rolling over, falling down the gaps, or getting stuck, you'll have to start the level from the beginning.
If you want to try your hand in games similar to this one, then be sure to check our collection page of online car games.
Developer
Armor Games developed Neon Rider.
Features
20 different levels to complete
Colorful 2D graphics
Intuitive controls
Entertaining gameplay
Controls
You can use the WASD keys to move around. Press the SPACE BAR to restart the level. You can use the arrow keys to change the color of your vehicle.