Play Now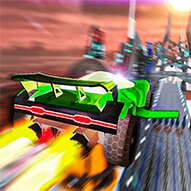 With Flying Cars Era, prepare to move on to the next generation of flying car games! Here you will find a fantastic and extremely long experience! Nothing is impossible here! If you are ready for the adventure, jump into your car and start the engine! Have fun!
You must have dreamed of a flying car as a kid! Now your dreams come true with this game! If you are ready, jump in your car and join the race! Prepare to pilot your own flying car in three different game modes in this racing game. You can also challenge a friend and play together if you want. You must reach the finish line before the timer runs out in challenge mode. There are various obstacles on the road that can slow you down, so activate the nitro bar by pressing the left shift key. To win and unlock new maps in the race mode, complete two laps and cross the finish line before the other players. I in free drive mode, you can ride about aimlessly. There are ramps and hoops to add to the excitement of the trip. Try to collect gems and use them to unlock new cars with various stats. Have a good time!
Do you want to play more games like this one? If so, take the different challenges in our collection of free and online car games.
Developer
RHM Interactive developed Flying Cars Era.
Release Date
July 09, 2021
Features
3 different game modes
2 player
Different maps
New cars to unlock
Controls
Player one can use the arrow keys to control the car. Press right shift key to activate nitro. P key to stop the car. O to reset car position. L to look back. Player two can use the WASD keys to control the car. Left shift to activate nitro. Space bar to stop the car. R to reset car position. T to look back.