Play Now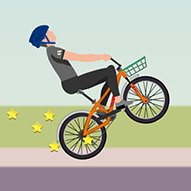 In Wheelie Biker, it is a perfect day to go out for biking! The weather is lovely, and you are motivated to bike on this sunny day, but still, you have some goals to achieve! Are you ready to see your goals and reach them now? Have fun!
Nothing compares to the simple pleasure of riding a bike, and the weather is beautiful today to take your bike and go outside. But every day, we need some excitement, don't we? So, your challenge is to get 1000 points before you reach the finish line and complete each level. To reach this goal, you need to perform bike stunts without going downhill. Sounds excited? If you feel ready, you can jump into the game immediately! You only need your mouse to play this game, just click the left mouse button to lift your front wheel. Be careful! If you click too much on your left click, the bike will fall backward, and the game is over. You shouldn't click out of adjustment! Also, try to avoid crashing, or else you will have to start over the game. You will have 50 levels to beat. As you proceed with the game, you can unlock new bikes with your coins. All you need is to bike carefully, perform stunts, and reach the aim to see the end of this game! Are you ready to explore the city while biking with pleasure? Have fun!
If you need to play more games like this one, take the different challenges in our collection of free and online skill games.
Developer
DAB3Games developed Wheelie Biker.
Release Date
January 6, 2021
Features
Intuitive controls
Challenging gameplay
New bikes to unlock
50 levels to pass
Controls
You can use your mouse to play this game.