Play Now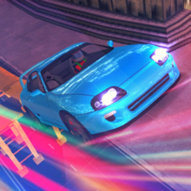 In Supra Drift & Stunt, the city lights brighten the night sky, and the spotlight is on you! Jump into your fast car, fasten your seatbelt, and get ready to floor the gas. With so many different stunts to perform, do you think you have what it takes to earn as many points as you can?
It's a relief that the streets of this city are empty, as obstacles would've slowed you down! The objective of this game is fun and simple. You try to perform various stunts through the city to earn points! When you start the game, you can move around with the arrow or the WASD keys. To perform stunts successfully, you should build up your speed. If you need an extra boost, just press and hold the F key to activate your nitro. Don't wanna miss out on even a second of your amazing stunt jump? Press and hold the G key to enter the slow-motion mode for those action movie like moments! If you want, you can customize the different settings from the menu, such as the top speed limit and so! Have fun!
If you can't get enough of the thrill of driving a fast car and performing stunts, then be sure to check our other popular title City Car Stunt 2 next! Enjoy!
Developer
Fuego! Games developed Supra Drift & Stunt.
Release Date
November 10, 2020
Features
Colorful 3D graphics
Intuitive controls
Entertaining gameplay
A menu to customize your vehicle's stats
A big city to explore and drive around
Controls
Use the arrow or the WASD keys to drive around. Press Y to change the color of your car, F for a speed boost, and G for slow motion. Use the SPACEBAR for handbrakes.