Instagirls Halloween Dress Up
Play Now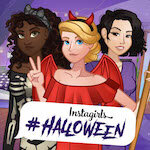 In Instagirls Halloween Dress Up, the spooky season is here and as one of the most popular fashion influencers on social media, your followers are asking you to come up with different outfit ideas. Open the doors of your wardrobe and get ready to take amazing pictures of your outfits. How many likes do you think you can get?
The best part of Halloween is that you can be anything you want! But why not be fashionable while doing so? The objective of this game is to complete all of the different goal looks. You can play this game with your mouse, so click on the play button on the main menu to start the game. On the next screen, pick a model from different options. Let's perform some fashion wizardry! In the bottom left corner of the screen, you can see your goals by clicking on the hashtag button. Each outfit requires specific pieces. Put away your cash because the only currency in this game is likes! Navigate through different categories, and click on pieces to buy them. Once done, click on the camera button to take a photo of your outfit and share it on social media! Have fun!
Halloween is not the only holiday that one might want to look stylish! Help your followers look at their best in the other fun game of the series, Instagirls Christmas Dress Up. Enjoy!
Developer
Azerion developed Instagirls Halloween Dress Up.
Release Date
October 4, 2018/p>
Features
7 different models to choose from
15 different outfit goals to complete
A wide variety of accessories and clothes
Colorful 2D graphics
Controls
You can use your mouse to play this game.