Play Now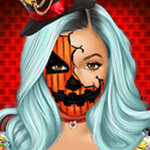 In Halloween Face Art, the spooky season has arrived, and it's time for celebrations. Everyone loves to have an interesting face art during this time of the year, whether for social media or parties. These three women are no exception, and they know you're the best. Grab your makeup kit, and invite them to your salon to work wonders on their face. After you finish, we're sure they'll become the most popular people at the party!
From skeletons to pumpkins, there are many different things to turn into face art. Your objective in this game is to give unique looks to each girl. Drawing shapes and characters on someone's face might be hard for you in real-life, but with the simple controls of this game, you can work like an artist! You can use your mouse to play this game, so click on the play button on the main menu to start. Next, pick one of the three girls. Each girl has 3 different face art options. After you pick, you can use the different items at the bottom of the screen. Click and drag the tools one by one, and watch as your models change in front of your eyes. Don't forget to try all the other options after you're done! Enjoy!
For more games like this, be sure to check our collection of free girl games. Have fun playing!
Developer
MGS developed Halloween Face Art.
Release Date
October 16, 2018
Features
Colorful 2D graphics
3 different models to choose
Different face art options
Intuitive controls
Entertaining gameplay
Controls
You can play this game with your mouse.