Play Now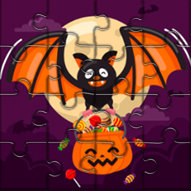 In Halloween Puzzle Game, the spooky season has arrived, and creepy characters such as witches and ghosts started to appear. But the ones in this game are both cute and cool. Are you ready to play a classic game of jigsaw with a Halloween twist? If so, multiple fun puzzles are waiting for you!
Jigsaw puzzles are fun to play with. But realizing that the last piece you need to complete the puzzle is missing could ruin all the fun and stress-free mood you have. Luckily, you don't have to deal with such inconveniences in the digital version of this popular game genre. Your objective is to complete all the puzzles in the game, and you can play the game with your mouse. Click on the play button to start, and pick one of the 12 different Halloween-themed images to begin! Next, choose a difficulty level. You can select 16, 36, 64, and lastly, 100 pieces. No need to shuffle the puzzle pieces as the game does it for yourself! Use your mouse to click and drag pieces to the board. Once you place two neighbor pieces side by side, they'll attach to each other, and you can move them as a single piece. Try to find the border pieces first, and you can fill the middle. Good luck and have fun!
Flex your mental muscles and try to find solutions to the many problems you can encounter in the games listed under our free and online puzzle games. Enjoy!
Developer
Multoigri developed Halloween Puzzle.
Features
Colorful 2D graphics
12 different images to choose
Intuitive controls
Entertaining and addictive gameplay
4 different difficulty levels
Controls
You can use your mouse to play this game.