Play Now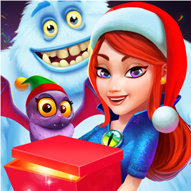 In Witch Alchemist Saga, it's time for delicious treats and sweets! The spooky season has arrived, and everyone is out trick or treating. As the resident witch, can you provide the most enchanting candies to the locals?
Either fruit-flavored or covered in soft caramel with rich chocolate inside, these candies will sure to bedazzle the kids! Your objective in this game is fun and simple! All you have to do is to complete each level by collecting the target amount of sweets without running out of moves. You can play this game with your mouse, so click on the play button on the main menu. The game features hundreds of levels, but be sure to collect your daily reward before heading into this enchanted sweet world! When you enter a level, your objective will appear on the screen. Use your mouse to line 3 or more of the same candies to collect them. In the top left corner of the screen, you can see your moves. Running out of those before reaching the level goal will make you fail, so be careful. As you progress through the game and reach higher levels, you can unlock different power-ups. When you reach your goal, the remainder of your moves will convert the candies on the board to special ones, and these will explode and give you extra points! Have fun and good luck!
Can't get enough of Spooktober? Be sure to check our other popular game Happy Halloween next! Enjoy!
Features
Colorful 2D graphics
Intuitive controls
Hundreds of levels to complete
Entertaining gameplay
Daily rewards that you can claim
Different power-ups to unlock and use
Controls
You can use your mouse to play this game.