Play Now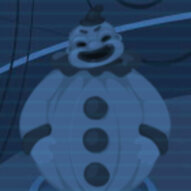 In Clown Nights, you have 7 scary nights ahead of you. Try as long as you like, but nothing can make us believe that clowns are nice and friendly. We know their true colors and the things they can do to you once they catch you. Are you ready to start working at the circus and meet the charming clowns?
Hiya, you! You must be the new security guard here. We heard that you'll be working on the nightshift. I'd like you to introduce myself. I'm Pennywise the Dancing Clown and these other clowns are my friends. We are very happy that you're here and can't wait to meet you again tonight! Best of luck on your first day! This may all sound very good at first, but don't let them fool you. They go mad at nighttime and scream crazy stuff like "you'll float too". Your objective? Survive through 7 nights until 6 am and don't get caught. You can click on the screen and move your mouse to scroll through the guard room. Open the lights to see the danger outside. When you see a clown, close the door and wait until it vanishes. You need to save the power until 6 am, so be careful when you're using the lights and camera at the bottom of the screen. Good luck!
Do you want to come and float with us? Check out our collection of online Halloween games! Enjoy!
Developer
Agame developed Clown Nights.
Release Date
May 03, 2017
Features
7 nights to survive through
Challenging and fun gameplay
Nice 2D graphics
Intuitive controls
Controls
You can use your mouse to play this game.