TrollFace Quest: Horror 3
Play Now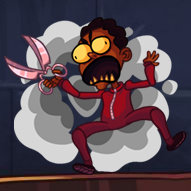 In TrollFace Quest: Horror 3, get ready face the world-renowned trickster once again! This jokester usually plans all these puzzles for a good laugh, but things have taken a creepy twist in this game. Do you have what it takes to overcome the challenges featuring various spooky characters from the horror movies?
What's that noise? Did you leave the lights on, or was it someone else? Just like the other popular titles in this fan-favorite series, your objective here is to complete each level by solving the puzzle and saving the characters on each level. The game features 17 different levels that you can play, but you unlock them one by one, starting from the first level. When you start, you should figure out where and which item you should click on the screen. What does that button do? Or maybe should you click on the item that the scary lady is holding? You find a solution through trial and error, so don't be afraid to make mistakes. Are you feeling stuck? You can use hints! These will point you in the right direction but keep in mind that you don't have an infinite amount of hints, so use them wisely. Do you have what it takes to face all these scary characters and overcome the obstacles on your way to beat the trickster once more?
Why stop here? Go ahead and check the other title in this series, TrollFace Quest: USA 1. Have fun playing!
Developer
Azerion developed TrollFace Quest: Horror 3.
Release Date
2018
Features
Colorful 2D graphics
Intuitive controls
17 different levels to complete
Characters from different and famous horror movies
Controls
You can use your mouse to play this game.