Play Now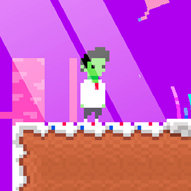 In Pixelkenstein Halloween, get ready for a sweet escape! With the coming of Spooktober, our undead and green character found himself in a candy-filled world! The trees are cotton candy, the land is a cookie, and milk flows in rivers instead of water! Do you have what it takes to collect all the treats in this sugary world?
Some zombies will do anything for brains, but the one in this game has a big sweet tooth, and all he wants is to eat candy! Your objective in this game is to complete each level by collecting all the treats and reach the exit gate before you run out of time. Start the game by clicking on the play button on the main menu. You can control your character with the arrow keys or with the WASD keys. Be careful! This realm is not only filled with sweet dreams! Keep an eye on the spikes as upon touching those, you'll die. Also, be careful not to fall into the milk pools. Jump above these obstacles to avoid them. Can you feel the sugar rush? By pressing and holding the SHIFT key, you can sprint. Jumping while running helps you overcome most of the obstacles. Can you complete each level and collect the most treats this Halloween?
Be sure to check our other free and online Halloween games to meet more creepy and cute characters! Enjoy!
Developer
FBK developed Pixelstein Halloween.
Release Date
October 29, 2020
Features
Colorful 2D pixelated graphics
A world made of cookies and sweets
Intuitive controls
Multiple levels to complete
Entertaining and challenging gameplay
Different kinds of treats to collect
Controls
Use the WASD or the arrow keys to move around, press SHIFT to sprint.