Play Now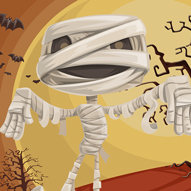 In Fun Halloween Jigsaw, it's time to celebrate the spooky season with supernatural characters! After a full day of trick or treating, what is the most relaxing way to spend your time while enjoying the sweets you collected? Playing jigsaw, of course! Roll up your sleeves and get ready to complete all the puzzles in this colorful game!
Playing with puzzles is a fun activity, but sometimes this fun can be ruined with missing pieces. Luckily, you don't have to worry about that here because this game carried the fun to digital! Your objective in this game is to complete all the puzzles. You can play the game with your mouse, so all you need is to click on the play button on the main menu to start. Pick an image from 12 different options and then select one of the 3 difficulty settings. The harder your game, the more pieces you'll have to deal with. Wait, don't try to shuffle the pieces! The game will do it for you after giving you a brief time to look at the image. Click on the puzzle pieces, and drag them around to place them. When you put two neighboring pieces side by side, they'll attach to each other, and you can move them as one piece. Try to place the border pieces first, and then you can work on the middle parts! Have fun!
Need more spookiness in your life? Then check out our collection of free and online Halloween games collection. Enjoy!
Developer
Fun Best Games developed Fun Halloween Jigsaw.
Release Date
October 20, 2020
Features
Colorful 2D graphics
12 different images to play with
Intuitive controls
Entertaining gameplay
Controls
You can use your mouse to play this game.