Play Now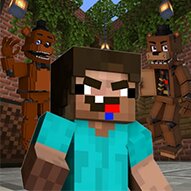 Choose among the maps of Noob vs 1000 Freddys and destroy the evil toys in your way! There are all types of maps, be it a green field in the sunset or an open dungeon built for torture! Just grab your weapon, get in the mood, and start fighting evil to save the world!
The evil toys are uprising to break humanity's resistance and take over the world. You must fight one last time for yourself and the money! Save the lives of the ones you love while getting paid for better guns! Complete your missions by killing as many monsters as needed on the map. Clear the area to unlock the next stage. It won't be that easy, of course. You must master the use of all movement commands to keep your character's health high while shooting the enemies. Climb to higher spots to get a clear view of the map while making yourself harder to shoot. You can use ladders or simply jump from block to block. Keep moving to confuse the enemy while watching out for surprise attacks. Discover all five maps and complete a total of twenty-five missions to help Noob in this crucial fight.
If you like this new chapter of Noob's adventures, you can play Noob vs Pro vs Stickman Jailbreak and check out their other stories!
Developer
kiz10.com developed Noob vs 1000 Freddys.
Release Date
September 1, 2022
Features
Colorful 3D graphics
Noob as the main character
Five unique maps with different themes
Scary atmosphere
Unlockable weapons
Controls
"W, A, S, D" to move, mouse to shoot, "C" to crouch, shift to sprint, spacebar to jump, "R" to reload, and Esc to quit.