Play Now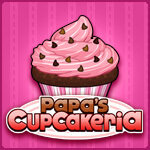 In Papa's Cupcakeria, it's time to bake and serve delicious cupcakes. With their soft cake and deliciously rich cream, cupcakes are one of the most popular desserts. The regulars of Papa Louie's bakery knows this, and they flock to the doors of the store every day. Wear your apron and get ready to mix the batter!
You'd have never guessed the owner of the car you crashed into is the famous chef Papa Louie. Unable to pay for the damage you caused, the chef offers a position in his famous bakery for you to pay your debt. Wear your hat and get ready to head into the kitchen. The objective of this game is to serve your customers their orders correctly each day. You can play the game with your mouse, so click on the play button on the main menu to start. Then select a slot and pick or create a character to begin. You use 4 different stations in the game. The first one is the order station, and this is where you take orders from your customers. The second one is the batter station where you pick a cupcake paper and choose the batter. The next one is the bake station. Here you bake these delicious desserts into perfectness. Lastly, use the build station to add toppings and other details. You earn coins and points according to your performance, so good luck!
Go ahead and bake amazing pies in the other game of the series Papa's Bakeria, by clicking here. Enjoy!
Developer
Flipline Studios developed Papa's Cupcakeria.
Release Date
7 August 2013
Features
You can customize your character
Entertaining gameplay
Various recipes to discover and try
Different customers to serve
Controls
Use your mouse to play the game.