Play Now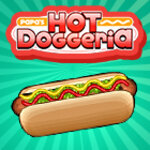 In Papa's Hot Doggeria, it's the game-day, and you've been waiting for this day for a long time. Sadly all the tickets are sold out. Luckily, a shop with a great view has just opened, and they're hiring! With so many hungry customers in the line, it'll be a challenge to watch the match, but you should do your best to keep everyone satisfied with the best hot dogs in the stadium!
It's not a game-day without the snacks and the cheering of the crowds. Your objective in this game is to complete each day with as many happy customers as you can. You can play the game with your mouse, so click on the play button on the main menu to start. Next, pick a slot to save your progress and choose a character or create your own. From hairstyles to the position of the eyes, you have many different customization options to create your character. When a customer arrives, take their order by clicking on the icon above their head. Then visit the grilling station to cook hot dogs. Keep your eyes on the grill-o-meter, as you wouldn't want to serve burnt or raw sandwiches. When done, go to the building station to add toppings, and lastly, visit the pop station to prepare drinks and the popcorn. With each day, you'll unlock new customers and menu items. Have fun!
When you're finished, go and help Papa Louie at Sakura Bay in the other title of the popular series, Papa's Sushiria. Enjoy!
Developer
Flipline Studios created Papa's Hot Doggeria.
Release Date
November 19, 2012
Features
Variety of picky customers to keep happy
Lots of different recipes
Mini-games to play
Different customization options
Controls
You can use your mouse to play the game.