Play Now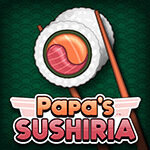 In Papa's Sushiria, it's time to roll sushi! Sushi is one of the most popular Japanese dishes, and your customers can't wait for the best restaurant in the city to open. Grab your knives, cook the rice, and get ready to feed your customers with delicious sushi!
The residents of the Sakura Bay welcomes the newest addition to the downtown, Papa's Sushiria! As the newest employee, do you have what it takes to keep your picky customers happy? To start the game, click on the play button on the main menu, and select an empty slot to save your game. Next, you can either choose one of the two premade characters or customize your own. Many different customization options are available in the character creator! When done, you're ready to head into the kitchen. Your customers will arrive and give their orders. Check the order ticket to see what kind of sushi and bubble tea your customer want. Cook the rice at the cooking station, stack the roll the sushi at the building station, and prepare the tea at the tea station. Keep an eye for special customers, as they'll award you with exclusive recipes if you make them happy! Enjoy!
Don't leave the kitchen yet! Have you tried our other popular game, Papa's Pastaria? Be sure to check it out, and have fun!
Developer
Flipline Studios developed Papa's Sushiria.
Release Date
December 13, 2016
Features
Customizable characters
Over 145 menu items to unlock
40 unique special recipes
7 fun mini games
Entertaining and addictive gameplay
Controls
You can use your mouse to play the game.