Play Now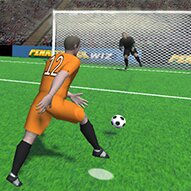 If you are enthusiastic about penalties, you will definitely get addicted to Penalty Kick Wiz! Skip the whole match and jump right into the most exciting part: penalties! Choose your national team and play in turns against different teams! Winning soccer matches is a thing but winning penalty matches? This is what you are here for!
Start by choosing your team from the menu. You can unlock the big-league players by reaching certain checkpoints like winning five cups or saving a hundred goals. Once you get a team, the game will automatically match you with random teams. These matches provide you with shoots in turns. You either attack or defend. The role of the attack player is easier due to the size of the goal and the time he gets to aim. The goalkeeper, on the other hand, gets a small time to react to the incoming attack. Staying alert and improving your reflexes help a great amount. Compete with enemies that advance with every new game and get better with them to rise to the top of your league. Unlock and command your dream soccer team! Win the world cup and bring your country the honor of victory!
If you like this penalty tournament, you can check out our Sports Games category by clicking here.
Developer
Physical Form developed Penalty Kick Wiz.
Release Date
March 16, 2022
Features
Colorful 3D graphics
Increasing difficulty with every match
Satisfying reward system
Improving aiming skills
Controls
You can use your mouse to play.