Play Now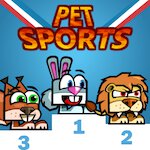 In Pet Sports, your opponents are ready for the competition. Every one of them is fast and furious and they'll do everything to win this tournament! What will you do? Do you have what it takes to defeat them? If so, let the tournaments begin!
Do you hear that? The tournaments are about to begin! Everyone is ready and they're waiting for you! But first, you need training! After all, there's no winning without hard work, right? In this game your objective is to train your animal and get ready for the tournaments! You have to win all the tournaments to complete a season and get the cup! First, choose your pet. What are you in the mood for? A dog, a lion, a frog, a rabbit, a squirrel or a penguin? After choosing your pet, start training them! You have to increase your skills in swimming, running and motor racing! You can do this by playing mini games! Try to overcome the obstacles during the swimming game! Or avoid the bombs falling from the sky in the motor racing game. And be the first to reach the finishing point in the running game! Don't forget to collect coins while you're playing to boost your skills! Once you you're ready for the tournaments, join the competition! Uh oh! Do you need more training? Then train harder! You know you can do this!
If you enjoy playing sports games, be sure to check our collection of free sports games to browse more fun titles like this one!
Developer
Sergey Pomorin developed this game.
Features
Nice graphics
Fun mini games to play
Boosts to buy
Cute pets to choose between
Controls
Use space bar to dive during swimming game. Left and right arrow key to move during motor racing and running.