Play Now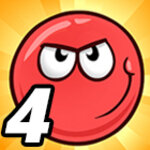 In Red Ball 4, evil blocks made a terrible plan to rid the world of all the roundness, and they've started from turning all the balls into blocks. They'll not stop there, as their leader wants to turn the Earth into a square too. Only you can stop these evil plans, so get going and put an end to this madness!
These blocks are jealous of how you can roll around. Your objective in this game is to complete each level, and finally, reach the boss and defeat it. Click on the play button on the main menu to start the game. There are 15 different levels in the game, but you unlock them one by one as you play. You can control your character with the arrow keys. In each level, you'll encounter different traps and enemies. Maneuver your way around them and try not to die. You start with 3 lives and lose one whenever you touch an enemy. You can check your health from the top left corner of the screen. The red flags you'll see on the levels are checkpoints. When you die, you'll spawn near these flags. Try to collect stars you see around for bonus points. Good luck!
Join this adventurous and brave character in its previous adventure, Red Ball 3. Have fun playing!
Features
Colorful 2D graphics
15 different levels to complete
16 different achievements to unlock and earn
Entertaining and addictive gameplay
Intuitive controls
Controls
You can use the arrow keys