Play Now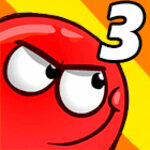 In Red Ball 3, the round and red main character of this game needs your help. The black ball got jealous of the red ball and his girlfriend, so he came up with an evil plan. Can you help the red ball to save his girlfriend from the mean black ball?
Black ball is at it again, and he needs to be taught a lesson! But with you by the side of the red ball, this evil character can't stand a chance! Your objective in this game is to complete each level by reaching the red flag located in the end without dying. There are 20 different and challenging levels that you should complete, so start the game now by clicking on the play button on the main menu. You can control the character with the arrow keys. Each level is filled with different obstacles and traps that you should avoid and overcome. The red ball is a determined and brave character, but he's not invulnerable. If you get caught in deadly traps such as traps or fall from the gaps, he'll die and you'll have to start from the beginning of the level. If you activate checkpoint flags, you'll spawn by them instead of the start of the level when you die. Collect stars you see around the levels to get more points. Good luck!
Go and try the next adventure in this popular series, Red Ball 4. Have fun playing!
Developer
Evgeniy Fedoseev developed this game.
Features
20 levels to complete
Colorful 2D graphics
Entertaining gameplay
Different obstacles to overcome
Controls
Use the arrow keys to play the game.