Play Now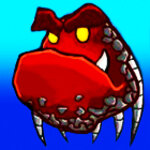 In Red Extinction, only the strongest can survive! Get ready to dive into the microscopic world, and fight against enemy bacterias. Can you evolve enough to overcome all the challenges you'll meet in the various levels of this addictive game?
Whether you're a complex organism or a bacteria, survival is not easy. Your objective in this game reflects that, as you try to survive the attacks of different enemies through multiple levels as a bacteria. This is a challenging task, but the controls of this game are simple. All you need is your mouse to play the game. Start by clicking on the new game button on the main menu. To complete levels, you should kill a certain number of enemies. In the beginning, you only have a single weapon. As you kill enemies, you'll earn DNA points. These can be used to purchase different weapons and upgrades from the in-game shop. On the left side of the screen, you'll see your health bar. If it hits zero, you'll die and lose the level. You can upgrade your health regen and amount. As you unlock more weapons, you'll become more powerful. Each level has 4 different difficulties. Keep yourself upgraded, and be sure to destroy everything on your way to survive! Enjoy!
Another challenge waits for you in our other popular game, Piranh.io! Click here to start playing now! Have fun!
Developer
Veewen Games developed Red Extinction.
Release Date
August 20, 2013
Features
Colorful 2D graphics
Intuitive controls
Entertaining and addictive gameplay
Multiple challenging levels
Boss fights
Various upgrades to unlock
Controls
You can use your mouse to play this game.