Play Now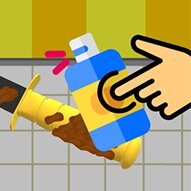 See the treasures hidden in the trash with Restoration Master! Recover the wasted items with your equipment and bring them back to life! Add new objects to your collection, unlock hidden pieces in your journal, and reach the VIP stuff! Clean the dirt, wipe the dust, and find the gems hiding inside!
The best thing about treasures is that they are free! This game offers you the satisfaction of turning nothing into functional objects and tools! Also, there is no need to search someone's garbage; you get these items sent to your address in boxes! So, what are you waiting for? Let's open your first box! Click or tap on the box to get rid of it. The first sight of the object might not be so lovely, but we will dig under the dirt to get what we need. You can use your sprays to loosen the dirt and scrape it to reveal your new items. Use the first spray to soak the dirt. Now use the second to loosen it. You must carefully spray every bit. Now grab the tissue and wipe the dirt. Here is your new item! Check out the store to see and unlock new options!
If you like this funny discovery game, you can check out Merge Master and try combinations to get new warriors!
Developer
Vally Games developed Restoration Master.
Release Date
August 19, 2022
Features
Colorful graphics
Various objects to unlock
Game shop
Achievements and prizes
Available on mobile
Controls
You can use your mouse to play this game.