Play Now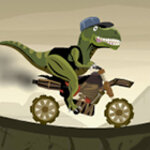 In Rex Racer, it's time to travel to prehistoric times where dinosaurs roamed and ruled the world! Tyrannosaurus Rex is renowned for his strength, but the one in this game is famous for his daredevil heart! Join this brave dino, and complete multiple levels on your bike to prove T-Rexes might have short arms, but they are fearless!
The roar you hear is not coming from a rival dino but from the vehicle of our main character! The objective of this game is to complete each level with as many points as you can. Click on the start button on the main menu to begin the game. You have two different vehicles to choose from. Pick either the bike or the ATV, and click on the continue button. You can use the up and down arrow keys to accelerate and use your brakes, respectively. Use the left and the right arrow keys to perform stunts in the air or adjust your balance. You earn points by moving forward, performing stunts, and collecting eggs. Cavemen on the road will boost your speed, but you must be careful! If you land on the track on your back, you'll die and have to start from the beginning on the level. You complete a level when you reach the end, so try your best to collect as many points as you can! Have fun!
Whether you control a dino or a human, racing is fun! Check our collection of free and online racing games for more! Enjoy!
Developer
Box10 developed Rex Racer.
Features
Colorful 2D graphics
A Tyrannosaurus Rex as the main character
2 different vehicles to choose from
Intuitive controls
Entertaining gameplay
Controls
Use the arrow keys to control your character.