Play Now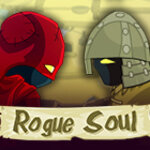 In Rogue Soul, take control of a wanted scoundrel and join him on his quest to become the most famous bandit! With soldiers and guards all around the town, this might sound like a challenging job, but our hero will not give up. What about you?
Having wanted posters all around the town is a thing to be proud of for our hero, but he knows he could become more famous if he causes more mayhem! Your objective in this game is to travel as far as you can by overcoming various obstacles from guards to traps. You can control your character with the WASD keys. Agile and talented, your character has many tricks under his sleeve. Throw daggers at your enemies to beat them or hit them with your sword. Climb roofs to pick beautiful flowers to steal the hearts of the girls, and don't forget to swipe the coin pouches. As you enter new zones, expect more challenges. Double jump to reach high places or use a parachute to overcome wide gaps. Do you have what it takes to become the most renowned criminal around?
For more games like this, be sure to browse our collection of free and online action games category by clicking here. Have fun playing!
Developer
NotDoppler developed Rogue Soul.
Features
Colorful 2D graphics
Intuitive controls
Different missions to complete
Various levels to beat
Entertaining gameplay
Different items to collect
Controls
Use the arrow keys to move around. Press the D key to use your parachute, the F key to slide, and the G key to use your dagger.