Play Now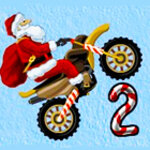 In Santa Rider 2, Santa has lost his sleigh, but he needs to collect presents. Luckily, he has a motorbike in the garage. Join him on this exciting journey and help him show that despite his age, Santa can also pull amazing stunts on his motorbike!
The present are all over the place, and you need to help Santa to collect them before it's too late! While Santa usually prioritizes gathering gifts, the objective of this game is a little bit different. You try to complete each level with a score as high as you can by performing various stunts. You can start the game by clicking on the start button on the main menu. To control Santa, you should use the arrow keys. Use the up and the down arrow keys to move forward and backward, respectively. With the left and the right arrow keys, you can maintain the motorbike's balance and perform stunts while in the air. You can earn points by doing various things. Performing stunts, going up in the air, and collecting gift boxes are just a few of them. You start the game with 3 lives and lose one when your motorbike gets destroyed. You have to start from the beginning of the level when you die. Running out of all your 3 lives ends the game, and you'll have to start from the very beginning. Good luck!
If you'd like to try our more games like this, then be sure to check our collection of free and online car games by clicking here.
Developer
Box10.com developed Santa Rider 2.
Features
Colorful 2D graphics
Intuitive controls
Entertaining gameplay
Multiple levels to pass
Controls
Use your arrow keys to control your character.