Play Now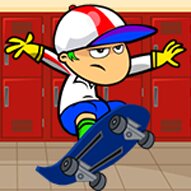 In Skate Rush Challenge, it is time to dodge the obstacles to win the victory with your super skate! You won't be able to take your eyes away from the screen for hours of entertainment thanks to simple controls and different worlds. Collect coins and unlock different skins from the in-game shop to make this fantastic game even more enjoyable. How long do you think you'll be able to hold out? Let's find out now if you're curious! Have fun!
Who says skating is more enjoyable when done outside? Even if you're sitting on your couch, you can enjoy skating! Your goal in this entertaining skill game is to live as long as possible. You'll have to deal with a variety of obstacles, like sharp spikes, thorns, and everything else you can see in a room! The real challenge, though, is keeping up with the game's pace. When the screen starts moving, the adrenaline rush begins! If you stay behind, you will fail and will have to start all over again. To jump over the obstacles, use your mouse or the touch controls. To make a single jump, click or tap once. To make a double jump, click or press twice. Collect all of the coins you come across along the way. Use your coins to buy new worlds and skins in the game's shop. Now, good luck, and have a good time playing!
Do you want to play more games like this one? If so, take the different challenges in our collection of free and online sports games.
Developer
kiz10.com Skate Rush Challenge.
Release Date
September 9, 2021
Features
2D colorful graphics
Various skins and worlds to unlock from the in-game shop
Simple controls
Fun and addictive gameplay
Controls
You can use your mouse or the touch controls to play this game.