Play Now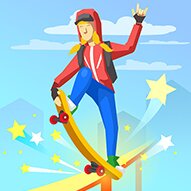 Are you ready to rock the road on your skateboard in Skateboard Master? You are a strong girl who knows how to rule the skateboard. Now, with your other girlfriends by your side, get prepared to have some exciting rounds of surfing on your skateboard. Can you handle all the turns and all the obstacles on your way? Can you do this even when you're going like a bomb on the road?

The road is fun, yet you need to be careful. Because you have adrenaline running through your veins, you can't help but challenge your limits. When you are going steadily on this road, there will be yellow paths that are accelerators for you to consider. If you surf on them, you will get an extreme boost. This is a matter of option. The same goes for the red slowing paths. Besides, the abandoned boxes are there to stop you on your way. So, beware of them even as you are storming on your way. Also, there will be some blue ramps on your way that will let you do some cool figures while you're flying off the road. Although these will be all on your way, you should monitor your character by yourself and rotate her as you wish. With various skins to unlock and coins to collect, go as far as you can on this adventurous road with your rocking skateboard!
If you enjoyed playing Skateboard Master, you should check out our collection of sports games here!

Developer
Mad Buffer developed Skateboard Master.

Release Date
August 27, 2021

Features
• 3D colorful graphics
• Go as far as you can go
• Need for sudden player control
• Skins to unlock
• Addictive gameplay

Controls
You can use the mouse of your computer to control the character.